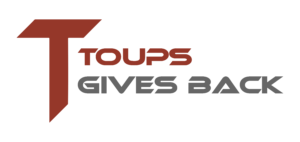 Toups Insurance would like to announce the expansion of its "Toups Gives Back" program. Last year, the Toups Gives Back program conducted a free U.S. Flag Exchange. Our local area was invited to exchange old and tattered Old Glorys for a brand new 3' x 5' Stars and Stripes. The flag exchange was a huge success with over 100 new flags provided to our community.
In an effort to assist local High School Seniors that have lost so much of their senior year due to the Covid-19 pandemic, Toups Insurance will award scholarships to four (4) Lafourche and Terrebonne 2020 High School Graduates. Recipients will share a passion for marketing, entrepreneurship, technology and helping to make their communities better places to live, work and grow.
Mission
The mission of the Toups Gives Back Scholarship is to assist South Louisiana High School Seniors grow stronger and thrive post-high school by providing them with opportunities to succeed within our area. We believe that education can provide a path to a successful and meaningful life here in our community. By educating and helping our own, our goal is to encourage our youth to take advantage of learning opportunities in order to provide for the themselves and their families for years to come. We believe that assisting in the education of our future businessmen and businesswomen will result in the reinforcing and enhancing our South Louisiana community and culture.
We like to think it's more of locals helping locals "Because We Live Here Too".
Eligibility
2020 Graduate from a Lafourche Parish or Terrebonne Parish High School
Enrollment and attendance for the Fall 2020 semester at a Louisiana Technical, Community or University pursuing a 4-year degree in a business-related field
Award: $500.00 each to four (4) Lafourche and Terrebonne Parish High School Graduates
To be considered, please submit the following:
Cover letter explaining your college selection, your chosen curriculum, and goals and aspirations for your future and our community
Resume' of academics, extra-curricula activities, awards, accomplishments, and employment history, if applicable
Letter of reference from a teacher, academic advisor, or community leader
Scholarship requirements will be accepted from April 15, 2020 to June 1, 2020. Award winners will be announced on June 15, 2020.
Individuals can submit requirements below.